Everest base camp Itinerary,Cost,Guide,Map
Everest Base Camp Trekking is extensively one of the world's most popularly doled out trekking destinations which have many trails set apart.
Posted on: Sep 22, 2018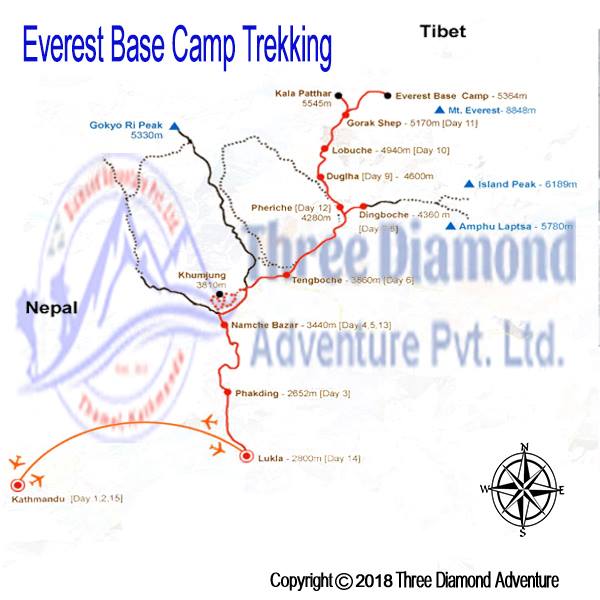 Everest Base Camp Itinerary Details:
Everest Base Camp Trekking is extensively one of the world's most popularly doled out trekking destinations which have many trails set apart.
Day 01:Arrival at Tribhuvan international airport (1350m.) and transfer to hotel.
Tribhuvan International airport only international airport in Nepal. On your long time arrival in Nepal you see massive peak from interesting flight, you can have a grand view of some mountain ranges, rivers and waterfalls. Once you reach Kathmandu, you can check-in to your hotel if you have already booked one, or can choose among the many available.Pre meeting and talk with Mountain guide share information on the trek do's and don't.
Day 02:Kathmandu city tour and preparation for Everest base camp trek.(1350m)
Swoyambhunath Stupa– The Monkey Temple (World Heritage Site) Watches over the valley from the top of a hillock on its western side. The huge stupa is one of the holiest Buddhists sites in Nepal Pashupatinath Temple (World Heritage Site)Pashupatinath is one of the most sacred Hindu shrines in the world and lies 5 KM east of the city center. The richly-ornamented pagoda temple the sacred Linga, or phallic symbol, of Lord Shiva build in 400 AD. Devotees can be seen taking ritual dips in the holy Bagmati River flowing beside the temple.You will see Hindu dead body fire cremation there. Patan Durbar Square (World Heritage Site)Patan Durbar Square is an enchanting combination of palace buildings, artistic courtyards and graceful pagoda temples. The former royal palace complex is the center of Patan's religious and social life, and houses a museum Roof struts are decorated with erotic carvings. One remarkable monument here is a 17th-century temple dedicated to the Hindu god Krishna, built entirely of stone Buddha stupa is biggest stupa in Kathmandu valley you will see Buddhist culture and monks there.
Day 03:Flight from Kathmandu to Lukla then Trek to Phakding (2610m).
Early morning next day, you would have a flight from Kathmandu to Lukla highest airpot in the world. You should keep your pen- knifes, lighter, matchboxes and other related stuff in the bigger baggage than in your hand-bag to avoid any security breach and unnecessary delay. The planes are generally small for these flights but the journey is panoramic.We arrange a guide according to term and condition. On arrival to Lukla, you would be received by your trekking guide. You will have some time to see Lukla and enjoy its beauty. Your trekking in Nepal would begin from this point.
The walk from Lukla to Phakding is gradual and has few ups and downs on the way. You would have a superb view of Kusum-Kangru, while you are crossing the short suspension bridge on your way. After a short climb, you would reach the Ghat village and another one and a half hours of gradual walk brings you to Phakdng village.
Day 04:Trek from Phakding to Namche Bazaar (3440m).
From Phakding, after crossing the Dudh-koshi suspension bridge, the walk is easy and pleasant with short uphill and down-hill climb. You would be re-crossing the same river again. You would have a magnificient view of Thermasarkhu which is 6,608 meters from the village of Benkar. Now you would cross the long suspension bridge over the Bhote- Koshi River. This is a busy area and is full of trekkers and porters. After here you would finally arrive to the small river of Monjo, after a climb of 20 minutes from this area.
Here, you can see some interesting water mills which are used for grinding corns and barley. It is one of the major staple diets of the Sherpas. Monjo is situated below the magnificent peak of Thermasharkhu. Close to this you have the entrance to the Sagarmatha national park. At this point, your trekking permit will checked and the officials keep a record of all the trekkers going ahead. After a gradual walk you would reach Namche bazaar. You can also get prepared for some high altitude trekking.
Day 05:Rest day at Namche Bazaar acclimatization.
This day is reserved for acclimatization and going around the place. Namche Bazaar is local trading center of khumbu. You will see magnificent views of the area. You would cherish the view of Kwangde peak and its sister peaks in the east. The houses in Namche Bazaar when looked from a distance appear to be in a U shaped bowl.
You can have a short up- hill walk towards the Sangmatha National Park headquarter. This spot is on the top of Namache Bazaar with breath-taking view of the surrounding areas. You would have a look at the giant snow- covered peaks and mountains. There is also a local museum which gives you a fair detail of the history of Himalayas, its geographic and cultural aspects, mountaineering history and various other information on the flora and fauna of the area.The overnight stay would be in guest houses. You would be highly acclimatized to the area by this time.
Day 06:Trek from Namche Bazaar to Tengboche (3860m).
The first half of the walk is fairly simple and easy. You can reach the top of Namche Bazaar after a walk of 20 minutes. After a pleasant walk of 2 hours, you come to a small place at Shanasa. Here you can see the colorful Danphe pheasant, which is the national bird of Nepal and might also get a chance to have a look at the musk- deer and also the Himalayan Thar, which is a mountain goat that looks like an antelope. With a gradual descent, you would reach the Imjatse River at Phungitenga which is at a height of 3250 meters. After a strenuous walk from here for an hour, you would reach the religious Buddhist entrance which lies just before Tengboche.
Here, your walk is over for the day after 5 hours and you can admire and enjoy this religious place. The overnight stay is in guest houses
Day 07:Trek from Tengboche monastery to Dingboche (4410m).
After you have relaxed for the day, you begin the trek towards Dingboche. The path goes through a forest that has trees like birch, juniper, fir, rhododendron etc. Through this forest you arrive to a lovely place i.e. Deboche which is at 3,650 meters. This place gives you a magnificent view of Mt. Ama Dblam, Mt. Everest, Nuptse and Lhotse. From here, the walk is mostly up-hill and continues to be so until you reach a large mani- wall gate. From here the way to Dingboche is divided into two paths. One of the paths towards Dingboche also goes through Pangboche. You can take this route to see more views and natural beauty.
Dingboche is a lovely place and you will find stone- walls protecting the agricultural fields. The walls are built to protect the crops from cold winds and grazing animals. Your over night stay would again be in guest houses.
Day 08:Trek from Dingboche to Lobuche (4910m).
From Dingboche the trail diverts towards the north, and the path is gradual and easy for the first 40 – 50 minutes. After this easy walk you would come to a mani- prayer stupa. From here the trail s slightly down towards Pheriche village. On this day of your walking, you would have a beautiful view of the Mt. Tawache, Ama Dablam, and Pokalde, which is approximately 5,741 meters towards the north. You would also have a view of the great wall of Nuptse.
You would have a pleasant walk for the next one and a half to two hours from Pheriche till you reach the small wooded bridge over the river of Khumbu glacier. This place is called Thugla and is the only place which has tea- houses before Lobuche. From here another 3 hours of strenuous trekking time brings you to Lobuche which lies at one corner of the hill. The overnight stay would be in guest houses.
Day 09:Trek from Lobuche to Everest base camp then back to GorakShep(5,140m).
Today will be an exciting day for you as you are very close to your final destination. Today you will have momerable an adventurous journey and a great trekking experience. The first walk of an hour is gradual up to the valley and leads to a grassy field. A walk of nearly 20 minutes takes you to the rocky moraine dunes. As you go ahead on your journey you can see the icy- glacial ponds and icebergs which lie below the Khumbu glacier. After a few more rocky moraine dunes and a gradual downhill walk, you reach Gorakshep which is known as bottom of EBC.
After this, the trek to EBC can be misleading among the high- altitude trekking which is a strenuous climb. You must follow the lead Sherpa as the paths change every season due to the movement of the glaciers. But once you reach to EBC after a total of 7 hours walk, a grand view of the Khumbu ice fall awaits you. EBC is a lively place during the high expedition season.
Day 10:Hiking Kala Patthar (5550m) back to Gorekshep then trek to Pheriche.
After you have trekked to the EBC and returned back to Gorakshep and an over night stay in Guest houses, you are now prepared to climb up to Kalapatthar. Besides, Gorakshep also is a good place to go around. It has a couple of tea- houses and it also used to be the base camp for trekking the Everest in the 1950's. The walk towards Kalapather from Gorakshep starts with a few minutes of easy walk. All this while, you will be walking in the sandy fields. After here, there is a steep climb for about 45 minutes. You will feel tiredness and strenuous mountaineering, you would come to the level fields and the walk from here is easy ad gradual. You would have the comfort of walking for the next one hour, post which there is again a steep trek to the top of Kalapatthar for about half an hour. The Everest from this point looks closer than you will imagine.After here, you trek back to Pheriche.
Day 11:Trek from Pheriche (4240m) to Khumjung (3780m)
After you have already reached your final destination the previous day, your cumbersome trekking time is almost over. You have done the Everest base camp trek and a lot of Himalayan treks. From this day onwards, you would have pleasant and easy walks throughout. You will be heading downwards to lower elevations. The walk is similar all the while to Thugla. After you reach the ridge, you would follow the stream and start traveling towards Pheriche valley. After a walk of around 40 minutes you reach the valley floor. You can take another one hour of easy and simple walk to reach Pheriche which is at 4,243 meters. You would have a wonderful the treks in Nepal by now. You trek down the slope to reach Namche bazaar stay overnight threre or continue for khumjung. Once you reach here, the walk for the day is over and you would spend the night in guest houses and enjoy the local meals.
Day 12:Trek from Khumjung,Namche Bazzar to Jorsale (2740m).
Once you wake up to the lovely weather in Namche Bazaar or Khumjung , you would like to visit the place and go around yak bredding farm at Khumjung a little bit, before you start your downhill journey. You can visit the local markets of Namche Bazaar and have a look at the local art crafts and handicrafts. You can buy a lot of stuff from here to make your journey memorable. You would like to have a small walk in and around the Sagarmatha National Park. It is a good place for photography and collecting memories. You would also enjoy the local food which has a distinct taste.The trek from Namche Bazaar to Phakding is again a simple and easy walk. You would be trekking down the slope most of the time. The beauty of the forest and distant mountains with several water- falls add to your journey a great delight. This is the beauty of Nepal trekking.There will be a few uphill climbs but you will manage it very easily. The lush green beauty and forests will take your pain
Day 13:Trek from Phakading,Jorsale to Lukla (2840m).
After this easy walk from jorsele or Phakading you would reach Lukla. This will be your last day with the Sherpas and other crew members, so you would like to enjoy the day with a delicious dinner and a few drinks.
Day 14:Flight from Lukla to Kathmandu, evening farewell dinner.
On this day you would have to wake up early as the flights to Kathmandu are generally scheduled in the morning. This is because during daytime, the weather is generally windy and there might be a delay in the flight timings. However you expect a slight delay in you r early morning flight as well if the weather is not suitable. As you make your way through the security checks and your flight takes off from Lukla airport, you would have a magnanimous view of the surrounding. Consider yourself lucky if you manage to get a window seat as you would take about 45 minutes to reach Kathmandu.In the evening farewell dinner and dance with nepali cusion.
Day 15:Transfer to airport for your onward destination.
This day you can collect your belongings and can buy sovinuers for your family and friend keep ready for flight. You are prepared to depart from Kathmandu, Nepal.If you have more time you can travel other popular city like, Pokhara and Chitwan to enjoy your holiday. You will be transferred to the International airport by car. We hope you have excellent trekking experience in Nepal.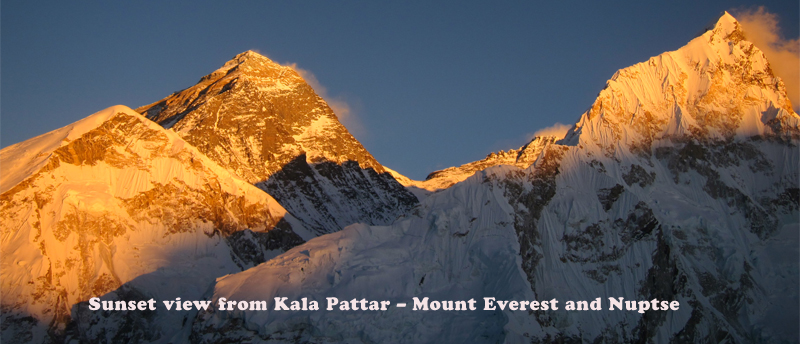 Tags:
Everest base camp Itinerary,Cost,Guide,map 2018/2019