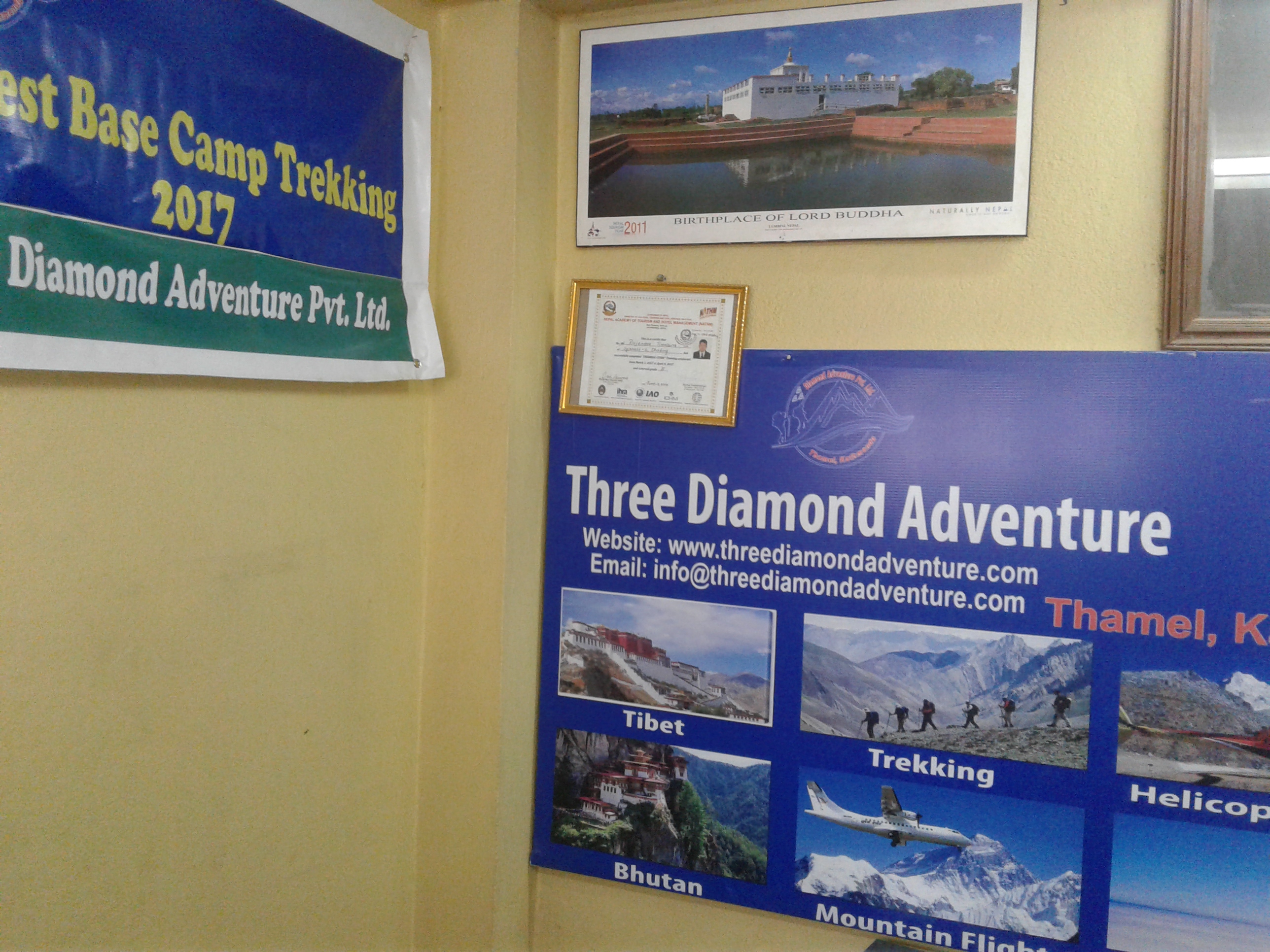 Reg. No. 132006/071/072
PAN NO: 602470126
In affiliation of Department of Industry on 08 February 2015,Three Diamond Adventures Pvt. Ltd is a legally registered trekking and tour operator located in Nepal with team of experts having decade long experience in Nepal's tourism sector. Being one of the leading Trekking & Tours Agency of Nepal, we offer wide range of trekking & tour packages in Nepal's Himalayas consisting of peak climbing, culture tour packages, incentive tours, wildlife safari, river rafting, helicopter tour of Nepal, mountaineering expedition in Nepal, Tibet & Bhutan and much more. Here at Three Diamond Adventures Pvt. Ltd, we also arrange several adventure tours packages like trekking, rafting, mountaineering, and most importantly we also organize a pilgrimage tour to the holy sites of Kailash Mansarovar and Muktinath each year.
We arrange highly qualified guides in English, German, Italian, Spanish, French, Russian Polish and Chinese. Our knowledgeable and experienced tour leaders who make history exciting and fascinating, professional transport services all around Nepal, Tibet Bhutan.and reserved hotel.Our client's desires are our top priority so we always make sure that our every client get adequate amount of time to explore several aspects of local lifestyle, culture, tradition as well as landscape, wildlife, flora, and fauna while you travel with our team. Our entire staff members include local guides with previous experience in all of the trekking routes and destinations so we assure you that we have fully informed team members with excellent knowledge of environment and altitude related problems. Keeping the safety of our clients in mind, our team is fully ready to handle the extreme challenges which might arise inadvertently.
All of our services are made available for individuals, small group of friends, students, families and large groups organized by companies, educational institutes, clubs and travel agents. Lastly, we are a very highly committed to provide outstanding services at all times to make sure our clients get a comfortable journey with no predicaments and dilemma of any sort during their trip.