Everest Base camp Helicopter tour & frequently ask Question
Everest Base Camp Helicopter Day Tour is best choice of travelers who have short holiday in Nepal but wants to observe Everest even if your are not fit for hiking is best option to do Everest Heli Tour just $999(per person)
Posted on: Sep 22, 2018

Everest Base camp Helicopter tour & frequently ask Question
Can Helicopter Take 5 people to Everest Base Camp at one time ?
Yes, The helicopter take 5 people Lukla if there will problem taking from lukla we will make 2 times fly from lukla at same price we need weight of 5 people however there is limit according to weight before booking your trip suggest us your weight.
We are 2 adult & 2 kids for EBC do we need to buy extra ticket for my kid ?
For Everest Base camp Helicopter tour we didn't charge extra money those children below 4 years is free.
Is there snow in the mountain every time ?
Yes, Everest base camp is over 5000 miters it will always covered with snow and you will get thrilling experience.
May I know which time is better to ride helicopter to Everest Base Camp ?
We have fixed depature tour to Everest Base camp for the main season like- September, October, November, December and March, April, May for the year 2018, 2019 and 2020. We do operate Private Helicopter Charter Tour everyday departure from Kathmandu throughout the year. Do kindly inform your arrival date and numbers of pax for reasonable cost to fulfill your dream to see the front eye view of Mount Everest Base Camp and Kala Patthar view point.
Does altitude make problem for first time to ride helicopter ?
No, we are operating helicopter EBC since long time we suggest if you are suffering certain disease for long time consult with doctor before booking your trip.
Hi there, what is the different between sharing flight and private charter ?
We operate daily flight in main season for Everest Base Camp Helicopter day tour ,sharing flight will cheaper then private charter.
What happen if the weather is un suitable for flying to EBC ?
If you didn't fly to EBC due to bad weather you will get full refund your money.
Hi there, we are in Nepal for holiday is it possible to bring beer for our trip from Kathmandu to EBc ?
Yes, so far we are we want to make your holiday remarkable in Nepal you can bring beer from Kathmandu beer will available at lukla and Everest view hotel and you can enjoy your holiday.
How long time helicopter will stop at in Kalapathar.?
We start from Kathmandu to Lukla then fly to Everest Kalapathar and take some Photos and Video with in (10-15) back Everest view hotel for Breakfast.
Is the Everest Helicopter tour safe ?
Yes, we always use dynamic helicopter like AS 350b3e for Everest Base Camp helicopter tour land at best view point at Kalapathar.For Everest Heli tour there will be experience pilot for already make several flight to EBC.While wemake flight from Lukla to Everest Kalapather we only bring 3 person for safety purpose.If there is 5 to six people we make two separate flight from Lukal.
How can I get Nepalese visa and what are essential document should I bring to get visa ?
While you land at Tribhun International airports Kathmandu then you gets arrival visa. If you like to apply visa you can follow this link (http://online.nepalimmigration.gov.np/tourist-visa).
These are necessary document while travelling Nepal.
Passport with six months validity.
You need to bring travel insurance for safety travel.
Emergency contact number of your family.
What types of transport is use ?
According to our booking size we use luxury car, jeep, minibus, land cursor with full Ac option.
How Much money do I need per day ?
It depends on your daily expenses starting from 50$.
Do I need to give tips to my driver and guide ?How much it would be ?
Yes, driver and guide will expected tips but its your choice how much it will be.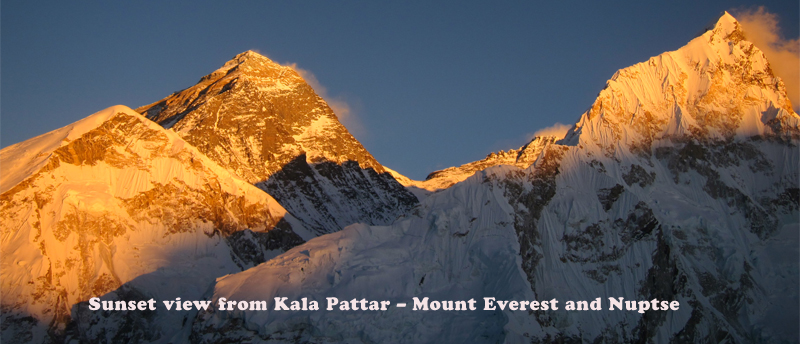 Tags:
Everest base camp Helicopter Tour,Everest Helicopter Charter,Everest Base Camp Helicopter Day Tour cost,Itinerary 2018/2019