Itinerary of Manaslu Trek | Manaslu Circuit Trek Itineray
Here is the detailed itinerary of Manaslu Trek from Kathmandu. Suggested Manaslu Circuit trek lasts for 14-17 days which can be changed as per your needs and requirements.
Posted on: Jul 14, 2018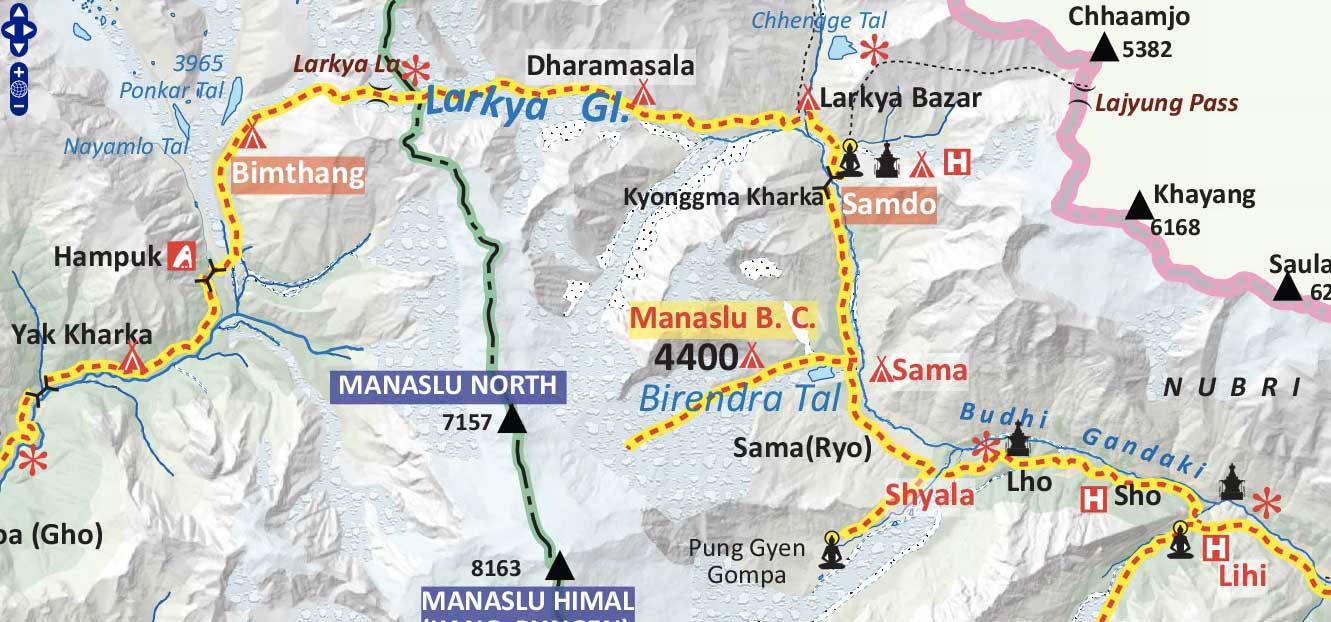 ITINERARY OF MANASLU TREK | MANASLU CIRCUIT TREK ITINERARY
Manaslu Circuit Trekking is the best option to trek in the restricted areas of Nepal enchanting the high snow-covered hills, mountains like Mt Manaslu and especially the traditions and culture of people living there. Manaslu Circuit Trek is a champion among the most amazing treks in the Himalaya. It is restricted on the east by the Ganesh Himal and the Buri Gandaki River pig out, on the west by the significant role of the Marshyangdi Khola with its Annapurna extent of slants, at the south in the Gorkha town in the foot of the slant, from where trekking works in the midst of the season. The closeness of Hindu and Buddhist culture, apportioned untamed life and remarkable blossom grouped characteristics, astonishing mountain vistas, fuming and never-ending streams, vertiginous expansions and real nation lifestyle that has shielded the spread since ages for all intents and purposes indistinguishable. Manaslu Circuit Trek itinerary lets you visit in the most of Manaslu Region with thrill and adventure.
But how to go there? Check the itinerary of Manaslu Trek below:


Manaslu Circuit Trek Itinerary
Day 01:Arrive international airport in Kathmandu and transport to the selected hotel.(1350m)
Upon your arrival to the Tribhuvan International Airport in Kathmandu, our representative of the Three Diamond Adventure will welcome you at airport. we will transfer you hotel by our private vehicle.we will help you checked in to your hotel according to you booking. You can either take rest or move around a famous tourist area in Kathmandu, Thamel. Thamel is tourist hub you will get many restaurant with continental and Nepali cuisine there. You will also be briefed about the entire trek on this day and you will meet your guide.
Day 02: Kathmandu Valley full day sightseeing with the professional tour guide.(1350m)
Swoyambhunath Stupa – The Monkey Temple (World Heritage Site) Watches over the valley from the top of a hillock on its western side. The huge stupa is one of the holiest Buddhists sites in Nepal Pashupatinath Temple (World Heritage Site)Pashupatinath is one of the most sacred Hindu shrines in the world and lies 5 KM east of the city center. The richly-ornamented pagoda temple the sacred Linga, or phallic symbol, of Lord Shiva builds in 400 AD. Devotees can be seen taking ritual dips in the holy Bagmati River flowing beside the temple. You will see Hindu dead body fire cremation there. Patan Durbar Square (World Heritage Site)Patan Durbar Square is an enchanting combination of palace buildings, artistic courtyards and graceful pagoda temples. The former royal palace complex is the center of Patan's religious and social life, and houses a museum Roof struts are decorated with erotic carvings. One remarkable monument here is a 17th-century temple dedicated to the Hindu god Krishna, built entirely of stone Buddha stupa is biggest stupa in Kathmandu valley you will see Buddhist culture and monks there.
Day 3: Kathmandu-Arugath (550 m) 7 hrs bus/ jeep 2hr by jeep to SotiKhola (597 m)
We wake up early morning take breakfast and leave Kathmandu start to ride Jeep or bus from Kathmandu to Sotikhola. We take a drive from Kathmandu to Benighat is pitch road, from benight road goes on perpendicular rough road enjoying the views of the rocky hilly areas, terraces, fields and Budigandaki rivers. Arughat is local trading centre it takes 2 hours driver to reach Soti Khola and rest overnight night.
Day 4: SotiKhola (597 m) to Machhakhola (825 m) 6 hrs
We wake up early to start our journey from Sotikhola to Machhakhola which will take about 6-7 hours. After crossing a popular suspension bridge of Soti Khola 710m. we see 60m long water falls,cliff,rocky and rapid budhigandaki river. Trek through Sal forests to after reaching Khursane. We make our way past terraced rice fields and up to a Gurung village of Labubesi where women wear sari and bangles. We climb behind a rocky cliff where the valley opens up. Walking through a sandy river bed, climbing over stone ridges and then again moving down to the river and crossing the suspension bridges, we climb behind a rocky cliff where the valley opens up. Walking through a sandy river bed, climbing over stone ridges and then again moving down to the river and crossing the suspension bridges, we reach Machcha Khola village and overnight at tea house.
Day 5: Machhakhola (825 m) to Jagat (1330 m) 7-8 hrs
The next day, From Machhakhola we follow a narrow trail that takes us to Tharo Khola and finally to Khorlabesi on the south you see beautiful Ganesh himal. After a few ascends and descends, we reach a popular hot-spring called Tatopani. We will spend sometime here and can enjoy the natural hot -spring and remove all our tiredness and stress of the trek. We climb another ridge and cross the Budhi Gandaki on another suspension bridge. After this, we climb a staircase and then cross a landslide and a ridge to reach Doban. After crossing a suspension bridge, we again climb stone staircase then go down to the river and climb some stairs again to reach Thado Bharyang. Then we cross the west bank of Budhi Gandaki, climb over a ridge, walk along the river to reach the village called Jagat where we spend over night.
Day 6: Jagat (1330 m) to Deng (1860 m) 6-7 hrs
On this day, we first reach Salleri after climbing a rocky ridge and then go towards Sirdibas settlement of some house made by hut. We continue to Ghatta Khola and then walk upstream through a long suspension bridge to reach a Gurung village in Phillim where Manaslu conservation area project and head office. From the lower points of the village, the trail turns north trails amidst corn and millet fields, we reach Ekle Bhatti, where you will have lunch and continue our trip from a steep gorge and then descend through grassy slopes and tall pine trees to cross the Budhi Gandaki. As the trail widens, we pass through bamboo forests to reach the Deng Khola. The buri gandaki valley turns from north –south east west the main Himalayas. After crossing the river, we reach the small village called Deng where we spend over night.
Day 7: Deng (1860 m) to Namrung (2580 m) 6-7 hrs
3 to 4 hours walk 420m ascent and 120m decent from Deng and then we cross the Budhi Gandaki and climb to reach Rana 1980m. From here we climb bhi for a while and then head west to Budhi Gandaki valley. The trail passes through forests and sees few houses above steep cliff on the opposite side of the river up and down to reach Ghap. The trail passes through well paintings.you see mani wall made by family. Then we take the trail through Prok village which allows us to witness the beautiful view of Siring Himal. We follow the river; crossing it at many places and pass through dense forests you see big fir alive bird impeyan and Gompas along the way. After crossing the river deep gorge, the trail becomes leveled and after a last steep climbs people trade things from Tibet. We reach Namrung where we stay overnight. Namrung is the best viewpoint for Siring and Ganesh Himal, Mt. Himal Chuli.
Day 8: Namrung (2580 m) to Samagaon (3480 m) 6 hrs
From Namrung a steep climb and passage through forests of firs, rhododerns and ork passed to reach Lihi 2900m.There is gompa on the side of the trail and another above the village. You see un-
usual architecture house is beautiful memory of your trek. We pass through Sho and then reach Lho where you see roof of house is made by heavy wood shingles.cross the ridge and trek out Thosang khola then descend onto a rock strewn moraine across pasture and field samagaon locally known as Ro and overnight there
Day 9: Rest day Samagaon (3480 m) to acclimatization walk to Birendra Tal and eventually to Manaslu Base Camp (4400 m)
This day is set as rest day and acclimatizes to the increasing altitudes. We stay in Samagaon and explore the surrounding areas or visit Birendra Tal and Anie Gompa.At this high elevation the only crops grown are potatoes and barely,people keep horse and yak for butter and meat.You can pass your spare time to Pungyen Gompa which is hidden behind the ridge in front of manaslu.It is situated on a hill near Samagaon. We hike up to the Gompa named after the two peaks of Manaslu which means bracelet. It was destroyed when the Japanese first tried to summit the peaks. It was believed that the expedition to reach the summit might have angered the Gods. After the detour, we come back to Samagaon and spend overnight there.
Day 10: Samagaon (3480 m) to Samdo (3865 m) 3-3 ½ hrs
We follow the Budhi Gandaki River up to a stream which we cross on a suspension bridge.There is a trail to the left that lead to the manaslu base camp.When you reach Kermo Kharka ,we take the trail on the right to Larkya la. It is a fairly easy trail, passing through Mani walls and juniper and birch forests. We again cross a bridge over Budhi Gandaki and continue forward. From a stone arch, we can see a kani and after crossing it, we reach Samdo where we spend overnight.
Day 11: Samdo (3865 m) to Dharmasala/Larke Phedi (4470 m) 3-3 ½ hrs
On this Manaslu circuit trek you have to cross many times to Budhigandaki River. Your trek starts by crossing a wooden bridge over Budhi Gandaki River and begin hiking upwards. After crossing a few streams and seeing a glimpse of the Larkya glacier, we go around a valley and make our way upwards again to reach a guesthouse called Dharmashala. This short walk to Larke Phedi provides enough time and rest to acclimatize for the further trek and overnight at Larke Phadi.
Day 12: Dharamsala/Larke Phedi (4470 m) to Bimtang (3740 m) 8-12 hrs walk via Larkya La pass (5125 m)
7 to 9 hours – 810m ascent and 1570m decent and cross ridge.The trail become s rougher, steep, grassy slopes and there is snow you will difficult to find your trail. Decent frozen lake you will cross Larkya la pass 5125m.On the way you can enjoy with Larkya glacier with exquisite views of Larkya peak. From here we can enjoy the breathtaking views of Himlung, Cheo, Kanggru and the Annapurna. It is a longer walk than other days and you reach the guesthouse among the low pastures at the dim lights of dusk. When we finally reach Bhimtang, the exquisite view of Mount Manaslu makes every step worth it.
Day 13: Bimtang (3740 m) to Tilije (2255 m) 6 hrs
After enjoying the splendid views of the mountains from a ridge in Bhimtang, we make our way down towards a high pasture, pine, rhododendron forest then we cross wooden bridge over Dudh Khola. We walk through rhododendron forests, narrow valleys and fields before making a climb to the river bank that leads to the village of Gho. A short walk takes us to Tilije with better accommodation options where we spend overnight.
Day 14: Tilije (2255 m) to Dharapani.
We move in a stone paved path passing through a beautiful village and then cross a bridge over Dudh Khola and trek along embankment. As you decend down through scrub forest and edge of Marsyangdi valley. After passing through a police checkpoint we make our way towards Dharapani from where we enter the Annapurna circuit section. Overnight at Dharapani,
Day 15: Dharapani (1963 m) to Beshishar(5hr by jeep or trek 9 hr)
We take Jeep or trek Dharapani to Beishar, Which takes 5 hours by Jeep Descent down through Marsyangdi Khola south fields. We spent overnight at Besishar.
Day 16: Beshishar to Kathmandu (7hrs by bus).
We drive along the banks of Marsyangdi and Trishuli River, witnessing the beautiful scenery of rice fields, terraced farms, rivers and valleys and refreshing views of the hilly areas and mountains. After 7 hours' journey we reach in Kathmandu where we will spend the last night in Nepal.
Day 17: Final Departure to Tribhuwan International airports.
On your last day you can buy some gift to your family and friend, we will drop you off at Tribhuvan International Airport. We would like to welcome you again to visit Nepal for trek other destination and tour in Nepal for next time.
.
Tags:
Manaslu Circuit Trek Itinerary, Manaslu Trek itinerary, Manaslu circuit trek Itinerary,cost,map,Guide
Comment Reply